Wooden fire-resistant doors EI30 are solid and highly aesthetic products guaranteeing long-lasting and easy performance.
The 46 mm thick leaf of EI30 fire rated door is produced in non-rebated design or with trilateral, thick rebate. The door leaf construction is based on a three-layer muntin, glued MDF board and double hardwood plywood. Leaf sheathing is made of 6 mm MDF boards in standard version, and, optionally, of thicker boards to enable milling of ornamental elements. The filling consists of mineral wool panel 180 kg/m³ dense glued to the sheathing and leaf frame. In glazed leaves there are modules of wooden frames, in which 15-17 mm thick glass EI30 is installed. Glass forms are mounted by means of steel squares, ceramic seals, fire-resistant sealing compounds and glazing beads made of MDF. Glass panels are available in maximum dimensions of 932 mm in width and 2368 mm in height, whereby the minimum dimension of bottom plinth block of glazed leaf is 200 mm, and the dimension of vertical frieze and top plinth block is 150 mm.
Wooden fire-resistant doors EI30
are equipped with standard wooden frame made of muntin, 50 mm by 100 mm in cross-section, manufactured from several glued MDF boards and hardwood plywood. Hinge side and counter-hinge side of the wooden frame may also be equipped with additional elements masking the contact of mounting surface with the wall: flat boards, angle boards or quarter round blocks. To create a more aesthetic look standard wooden frame as thick as the wall with double-sided angle bands is used. Fire-resistant door leaves are available with steel frames; angle frames and covering frames made of 2.5 mm thick galvanized sheets with dovetail groove under the rebate seal. In fire-resistant doors with wooden frame the intumescent fire seal is installed in special grooves, in order to protect it from accidental damage, whereas in steel framed doors the seal is placed on three edges of the leaf, also in grooves milled especially for this purpose.
Wooden fire-resistant doors EI30 are equipped with 2 to 4 adjustable hinges per leaf, depending on leaf size. A optional anti-burglar bolt made of steel can be installed. Standard hardware: a mortise-type lock with stainless steel plate, door lock cylinder with patent keys. U-form handles made of stainless steel with rosettes. Double-leaf fire-resistant doors are equipped with lippings made of MDF boards installed between active and passive leaf and front door latch – top and bottom locking bolt.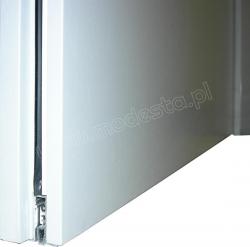 Generally, wooden fire-resistant doors EI30 are produced without a threshold profile, however it is possible to equip fire-resistant doors with thresholds made of oak, beech, steel or mahogany wood supplemented with a seal. Smoke proof fire-resistant doors are additionally equipped with an automatic drop seal. Door leaves with smoke stopping function are also supplemented with a "V" gasket.
The doors are finished with 0.6 mm natural wooden veneer covered with transparent varnish. Wooden veneer for fire-resistant doors may be custom dyed or stained according to the project, in order to obtain satisfactory visual effect and to adjust the doors to other interior design elements. Natural wooden veneer may also be painted in accordance with RAL colour palette with visible wood pattern or plain surface. The surface of fire-resistant door leaves may be covered with 0.8-1.0 mm HPL laminate. In such a case, the surface of the frames, leaf edges, cover strips and glazing beads are finished with natural wooden veneer in similar colour to the colour of the laminate. Leaf sheathing made of MDF boards can be additionally decorated with wooden strips. The surfaces of steel frames of wooden fire-resistant doors are varnished in accordance RAL colour palette.
A wide range of non-standard fittings for use in various places and projects is available. Wooden fire-resistant doors are custom produced with 46 mm top beam, produced using the same technology as door leaves. Non-standard versions are also supplemented with air transfer grilles in fire resistance class EI30, modules max. 600*200 mm (embedded in doors without smoke stopping function), emergency locks, panic fittings, automatic opening and closing devices, main and additional locks for providing access control, Ø16 mm fire-resistant vision panel, hydraulic self-closing devices and electromagnetic holders. Double-leaf doors may also be equipped with automatic lock installed in passive leaf as well as overhead door closer with closing sequence selector.