Aluminum doors for vertical service shafts serve for closing openings in special recesses mainly intended for the vertical passage of various types of installations between floors of a building. Such recesses are enclosed, creating vertical channels - called shafts or risers - concealing the components of buildings' internal installations. Besides aesthetic purposes – covering parts of installations – enclosures of service risers also restrict access by unauthorized persons. In vertical service shafts, openings are designed at inspection points, critical connection points and meter reading points. Such technological openings are secured by doors for vertical service shafts.
Aluminum inspection doors for vertical service shafts
are a very aesthetically pleasing solution when it comes to masking the internal installations of a building, such as bundles of electrical cables, ventilation ducts, water and wastewater pipes, air conditioning elements, meters and telecommunications cabling. Aluminum inspection doors perfectly mask the contents of shafts and protect against unauthorized access while simultaneously enabling quick and easy access for authorized persons to perform running maintenance and inspection of installations, repairs or reading of meters. The design of aluminum doors guarantees free access to the interior of a vertical service shaft upon opening, without the need for dismounting the leaf.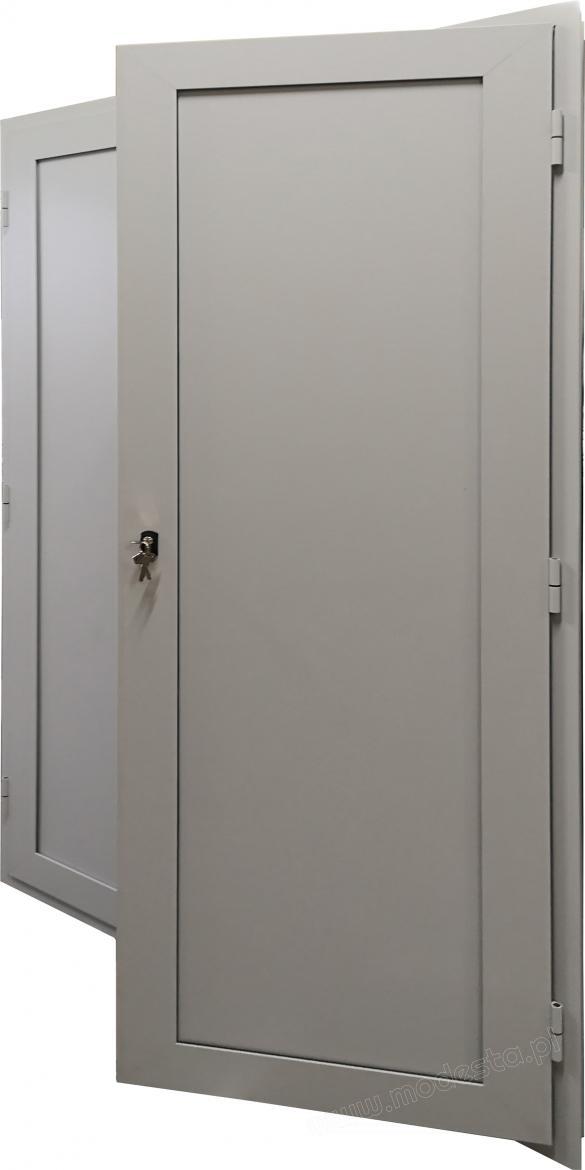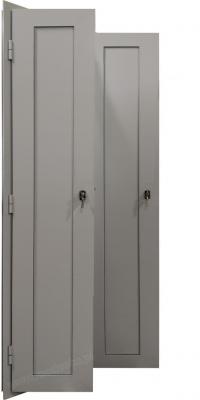 Aluminum inspection doors
are an excellent complement to the offer of typical aluminum-glass joinery for buildings. They are made in different sizes, according to custom specifications, and are structurally adapted for enclosure of practically any type of vertical service shaft. Depending on requirements, aluminum inspection doors are manufactured in single- or double-leaf form, also with fixed recesses. Thanks to systemic or custom connectors, doors can freely be combined into sets, making it possible to enclose spacious service recesses.
Aluminum doors for vertical service shafts
are fabricated from appropriately selected, thin aluminum sections ensuring that the construction is light while maintaining the required rigidity. The frames and leafs of inspection doors are formed through permanent joining of aluminum profiles by the method of gluing and crimping or bolting with special connectors. The filling of inspection door leafs is in the form of panels made of aluminum sheet and extruded polystyrene or fire-resistant plasterboard. The filling of leafs can also be made from translucent glass, which is particularly useful in the case of inspection doors serving for frequent inspections or meter readings. Leafs are suspended on two-part aluminum pivot hinges, making it possible to open the door up to an angle of 180° or remove the leaf from the frame. Hinges of this type guarantee full access to the space inside a vertical service shaft as well as simple installation and use. An EPDM gasket ensuring door tightness, preventing dust penetration, and insulating against small temperature differences is fitted on the perimeter of leafs. The application of a single- or multi-point closure guarantees protection against unauthorized access. Typically, hook locks equipped with one-sided cylindrical inserts are installed in the leafs of vertical service shaft doors. It is possible to equip doors with inserts with identical coding, and such a solution makes it possible to open inspection doors in a building with a single key. Leaf opening limiters, earthing or reed switches signaling unauthorized access to installations are available as optional equipment for vertical service shaft doors. Aluminum vertical service shaft doors are also available in a fire-resistant version, in fire resistance ratings EI 30 and EI 60, and serve as an excellent barrier against fire and smoke.