Steel doors for weaponry warehouses is a group of special purpose products intended for direct protection of warehouse rooms, in which weaponry, ammunition as well as technical and combat equipment are stored. Owing to their design, the doors, door furniture and fittings meet all requirements related to effective protection of weaponry warehouse rooms against access by unauthorised persons. They protect against fire, theft or sabotage, and at the same time, enable you to maintain proper conditions for the stored equipment. Steel doors for weaponry warehouses are adjusted in terms of their design and physical properties for the various requirements set down for rooms intended to store weaponry: civilian, police and military weaponry warehouses require slightly different solutions in respect of warehouse room closures.
Doors for civilian and police weaponry warehouses are manufactured based on steel doors with increased burglary resistance in RC4 class. Door leafs with a total thickness of 65 mm are manufactured as rebate leafs with a three-sided or four-sided thick rabbet with an EPDM cover gasket. The external sheathing of the door leaf is made from zinc-coated steel sheet 2.0 mm thick, whereas the covering on the internal side is made from zinc-coated steel sheet 1.0 mm thick. Inside the door board, there is an enforcement made from steel sections welded together to form a truss, and mineral wool filling the space between the external enforcement and the door leaf sheathing. A RC4 door-leaf for weaponry warehouses is suspended on door hinges with three screw hinges with ball bearings. The door frame is bent from zinc-coated steel sheet 3.0 mm thick and can be manufactured as an angle or block door frame depending on how and in what conditions it will be assembled. The door leafs and frames are painted with colours taken from the RAL palette. The basic fittings of the RC4 class doors for weaponry warehouses includes an anti-burglary expanding class 6 or 7 lock with a cylindrical class 6 insert with a complete set of keys and a stainless steel handle on rosettes. Below the main lock, a set for sealing the doors is fitted and indicates attempts at sabotaging, breaking or opening the doors by unauthorised persons. On the hinge side, the leaf is secured with fixed bolts, which prevent forcing the doors open in the closed position. Each door is manufactured under the Customer's specifications and may be equipped with access control means, additional locks and other tailor-made solutions.
RC4 class doors for civilian weaponry warehouses
meet the requirements under the ordinance of the Minister of Internal Affairs of 26th August, 2014 on Storage, Bearing and Registering Weapons and Ammunition (the Journal of Laws of 2014, item 1224). Doors for police weaponry warehouses are manufactured in line with designs and Manual on Management of Armaments and Technical and Combat Equipment in the Police (the Journal of Laws of the Main Police Headquarters of 19th August, 2005).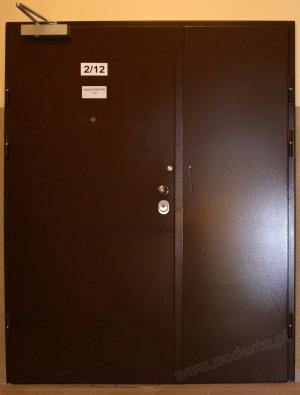 Doors for military weaponry warehouse
dependant on requirements recorded in the design are attested in RC4 or RC5 class under PN-EN 1627. Doors for a weaponry warehouse, manufactured on the grid of RC4 steel doors, have an increased external thickness of the leaf shell and additional safeguarding means. The door leaf has a total thickness of 70 mm with a three-sided thick rabbet and a cover gasket made from zinc-coated steel sheet. The skin of a door leaf on the external side is made from a metal sheet 1.5 mm thick, while the external covering is made from a sheet metal 2.0 mm thick and additionally strengthened with a sheet covering 3.0 mm thick, which, as a result, forms an external steel shell of the leaf with an impressive 5 mm diameter. The door frame is manufactured from a zinc-coated steel sheet 3.0 mm thick in the channel section or angle with mounting holes for bolts or bars Ø 12 mm arranged at minimum 480 mm spacings at all edges. The door leaf is fitted with a main expanding class 7 lock with multi-point bolting, and an anti-burglary class 6 insert with a complete set of keys and a stainless steel lock with a safe escutcheon plate protecting the lock insert against tampering and drilling. An additional class 6 lock is fitted above the main lock in the doors for weaponry warehouses with an anti-burglary insert and a sealing set. The leaf is additionally fitted with a shackle from a flat bar 3.0 mm thick, and on the hinge side, secured with three fixed anti-burglary bolts with Ø 18 mm.
Doors for military weaponry and special equipment warehouses
meet the current requirements set out in the Manual on Protection of Military Facilities of the Ministry of National Defence. Depending on the design guidelines, the doors for a weaponry warehouse can be manufactured in RC5 class of burglary resistance under EN 1627:2012, in EI30 class and EI60 under EN 13501-2+A1: 2009, and as bullet resistant doors in FB5 class under EN 1522:2000. The non-standard fitting potentially features additional locks, padlocks in anti-burglary class 5 and corrosion protection class 3, access control elements and burglary and assault signalling.