X-ray shielded steel doors are intended for closing rooms, in which there are devices emitting x-ray radiation and gamma rays. The radiation protection of X-ray shielded doors is a lead layer, which has the property of stopping or reducing X-ray radiation. The plate of a door leaf is made from zinc-coated steel sheet 1.0 mm thick and as a standard covered with laminate on the external side, making it much easier to keep the door sheathing clean. A total standard thickness of the door leaf is 50 mm; it is also possible to manufacture the leaf of an X-ray shielded door according to an individual design. The leaf of X-ray shielded doors is filled with polyurethane foam having a density of 48 kg/m³ and a lead sheet layer with the thickness between 0.5 and 2.0 mm. The leaf of side-hung doors has a thick three-side rebate with an EPDM gasket, whereas sliding X-ray shielded doors are manufactured in a version without a rebate. The design of a door leaf and frame is adjusted to the protective lead layer thickness - the doors are strengthened according to the door leaf weight resulting from a lead layer applied. At the bottom edge of the leaf of X-ray shielded doors are closed with a steel shape.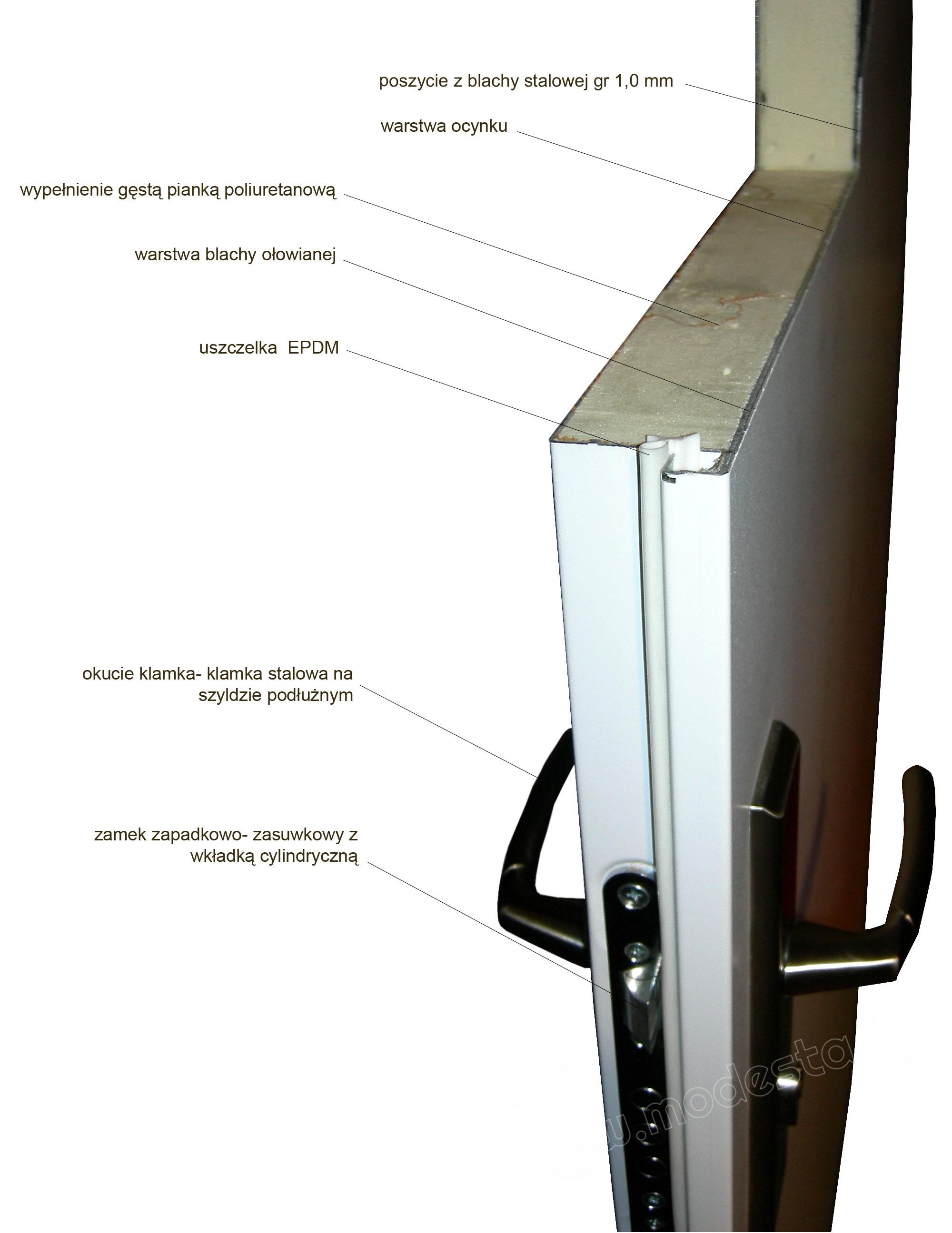 A complete set of standard hardware fittings of side-hung X-ray shielded doors is made up of a multi-point mortice sash lock, a cylindrical insert with a set of keys and a door handle on an escutcheon plate in nickel satin colour. The door leaf is equipped with three or four (depending on the lead layer) three-piece zinc-coated hinges, adjustable in 2 planes with pins protected against sliding in. A standard set of accessories of X-ray shielded doors contains a standard door frame with a fixed depth of 130 mm, the door frame sheathing is made from zinc-coated steel 1.5 mm thick, laminated as a standard.
The frame of X-ray shielded doors
is filled inside with lead sheet with a thickness appropriate to the door leaf filling. There is a possibility of equipping the doors with an angle door frame with additional fixing points and with a mounting threshold. The door frame of protective doors is mounted with Ø10 bolts in the seam, while preserving the continuity of radiation protection at the junction of the door frame with a wall. X-ray shielded sliding doors are equipped with a sliding track, an inside door stop, and shell hardware fittings.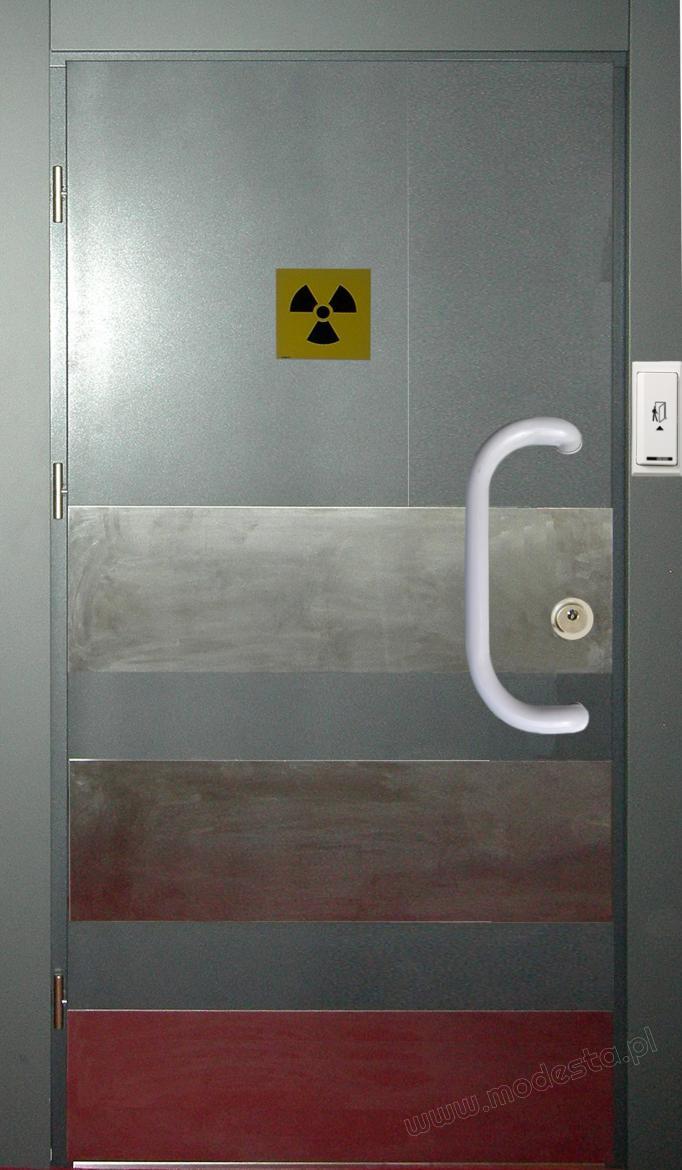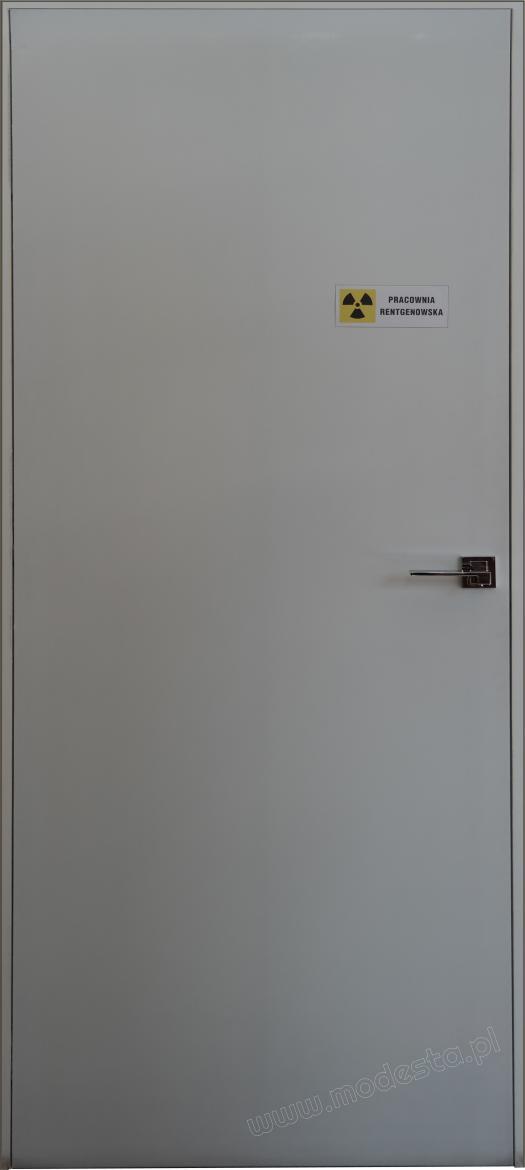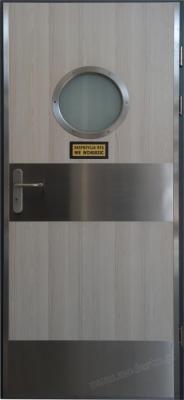 In order to protect the sheathing of door leaves against damage that may occur during their use by hits from stretchers and wheels, the leaves of X-ray shielding doors can be covered with strips of "kickplate" stainless steel at the bottom edge and "pushplate" stainless steel at the height of hardware fittings.
X-ray shielded doors,
apart from their anti-radiation properties, present quite high aesthetic values; door finishing allows them to be adjusted in respect of a material, colour pattern and design pattern to interior design and specific conditions of X-ray laboratories, dental surgeries and other rooms where it is necessary to use doors with an anti-radiation shield. The sheathing of a door leaf and frame of X-ray shielded doors is typically made of laminated steel sheet in uniform or wooden-like colours (oak, hazel, mahogany, wenge), however, in several designs, galvanised steel sheet is used for making the sheathing, powder varnished with a colour selected from the RAL palette or stainless steel sheet. The manufacturing technology of X-ray shielded steel doors also allows you to finish the door leaf surface with an exclusive flat or moulded MDF panel covered with natural veneer. Wide possibilities of shaping the appearance of X-ray shielded doors is especially important when we think of a therapeutic purpose of interior design of modern health care facilities, whereas rich additional accessories of the doors make it possible to use them in designs quite demanding from the technical side. X-ray shielded doors are optionally equipped, among others, with access control, automatic opening and closing with elbow push buttons and glazing with lead glass filling with a Pb equivalent that's proper for the door's leaf.