Steel doors -RC3- class provide high parameters of protection against burglary while maintaining the advantages of an ultra-light construction and a wide range of patterns and colours.
Steel anti-theft doors -RC3- class
are a good example that high safety factor does not mean sacrificing aesthetic characteristics and good design. A wide range of decorative ribbing, and a large variety of colours of anti-theft -RC3- doors is especially important when used in public buildings and housing. Extremely important for the proper classification of the doors is the multi-faceted locking system in the form of anti-theft locks and pins protecting the door against forcing open and the construction of the door leaf provides its required stiffness and resistance to deformation. Steel doors designed to meet the requirements of the PN-EN 1627:2012 standard in RC3 class are subjected to many tests in laboratory conditions; i.a. manual tests, using tools from A3 group and dynamic tests. Positive tests, qualifying the door to RC3 class guarantee their users high level of safety and comfort of operation.
The leaf of the RC3 anti-burglary door
is 50 mm thick, with a thick, three-sided rebate, and is made of steel sheet 0.7 mm thick, laminated in wood imitation or solid colors. The door leaf can be made from 1.0 mm thick galvanized sheet, powder painted according to the RAL palette. The filling of the anti-burglary door leaf is polyurethane foam with a density of 48 kg/m3, which serves as the binder for the sheathing and provides excellent thermal and acoustic insulation. For powder-painted doors, mineral wool serves as the filling of the leafs. The bottom edge of the leaf is terminated by a steel section. An EPDM gasket is placed in the rebated jamb of the door leaf, and this gasket is an important component of the door, ensuring tightness, and hence also thermal and acoustic insulation. Fittings in the RC3 door standard: main lock - mortise, class 5, with multipoint bolting and a cylindrical insert, with set of keys, handles on a safety backplate, three three-piece, galvanized hinges for the leaf with protection, and additionally, three securing pins from the hinge side. An additional lock may be mounted above the main lock. In the standard option, the leaf of the anti-burglary door is mounted on a block frame with a constant width of 84 mm, made of 1.5 mm thick steel sheet, galvanized and powder painted or laminated in imitation wood or solid colors, analogously to the leaf's sheathing. It is possible to install leafs on an angled frame or other frame made according to custom design. An additional sealing gasket is glued into the doorframe's rabbet, substantially improving thermal and acoustic insulation parameters. The frame of the anti-burglary door is mounted on expansion plugs through Ø10 holes in installation sockets in the rabbet or through steel sleeve-anchors. In the standard option, the door frame is equipped with an assembly threshold, and optionally, with a steel finishing threshold. The assembly threshold facilitates correct arrangement of the doorframe's components during assembly, while the finishing threshold ensures optimal sealing at the door's bottom edge.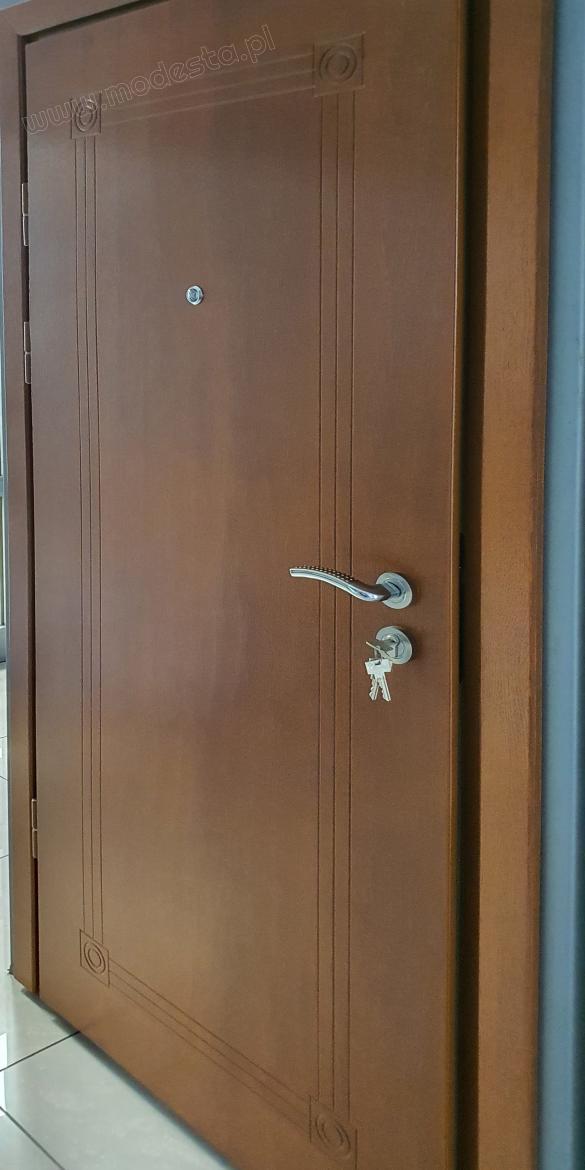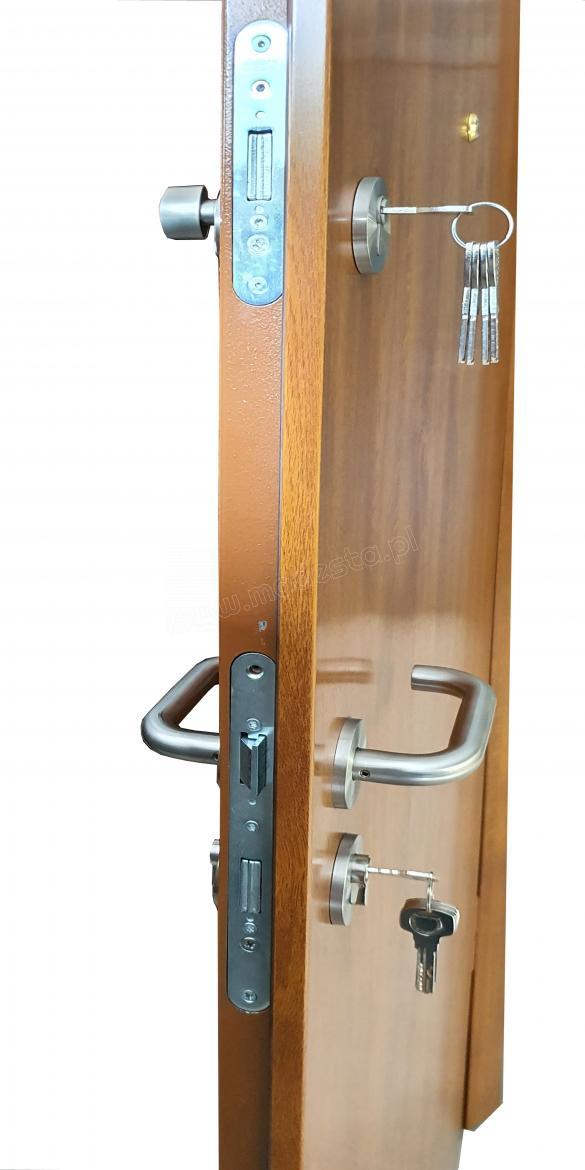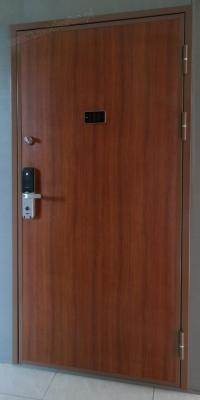 RC3 doors
are currently the most commonly applied anti-burglary doors in the segment related to securing of entrances with a moderate and high risk of burglary. They are available in single-leaf and double-leaf versions and are manufactured in typical dimensions and on special order. Thanks to their high resistance to break-in and mechanical damage, RC3 doors are ideally suited for application as strong exterior doors, entry doors for apartments, technical doors and specialized doors. The high level of protection they offer and the rich array of optional equipment available for them mean that RC3 doors find applications in residential buildings, industrial buildings, commercial and public buildings, military units and other buildings requiring an enhanced level of anti-burglary protection.
Finishing of RC3 doors.
Door leafs may be coated with lacquer, powder painted, veneered with PVC or lined with plywood coated with oak veneer. The leafs may be painted in two colors, and the cut-off line between the two colors will be hidden under the gasket in the rabbet of the leafs. RC3 doorframes are painted according to the RAL palette. The wide range of finishings and their quality create an inimitable and elegant style, enabling myriad design possibilities, adjusted to the individual needs of even the most demanding investors.
Optional equipment for RC3 doors.
Besides basic equipment - such as gaskets, thresholds, hinges, lock, inserts and locks - RC3 doors can be equipped with non-standard parts and accessories. Access control elements can be mounted in the door; electric strikes or electromagnetic locks. Following proper preparation of the door leaf and frame, reed switches connected to the access control system or burglary alarm may be placed in the door. The wide range of optional equipment also includes evacuation locks, panic fittings, auto-drop gaskets, ventilation grates, automatic door-closers and other components adjusting RC3 doors to the functions that they are intended to serve.