Fire safety anti-burglary doors with class -RC4- anti-burglary resistance and EI60 fire resistance are very durable constructions combining many important technical features. The 65mm-thick door leaf, with a thick, three-sided rebate having a 16/17.5 mm cross-section, is made of galvanized steel sheet 1.5 mm thick, reinforced on the inside with point-welded shaped steel elements. The leaf of an RC4 EI60 fire safety anti-burglary door is filled with fire-resistant panel glued on both sides to the sheathing and interior reinforcement. All edges of the leaf are reinforced with C-sections. The anti-burglary fire safety door features an expanding seal as well as a rebate seal placed on the leaf's rabbet.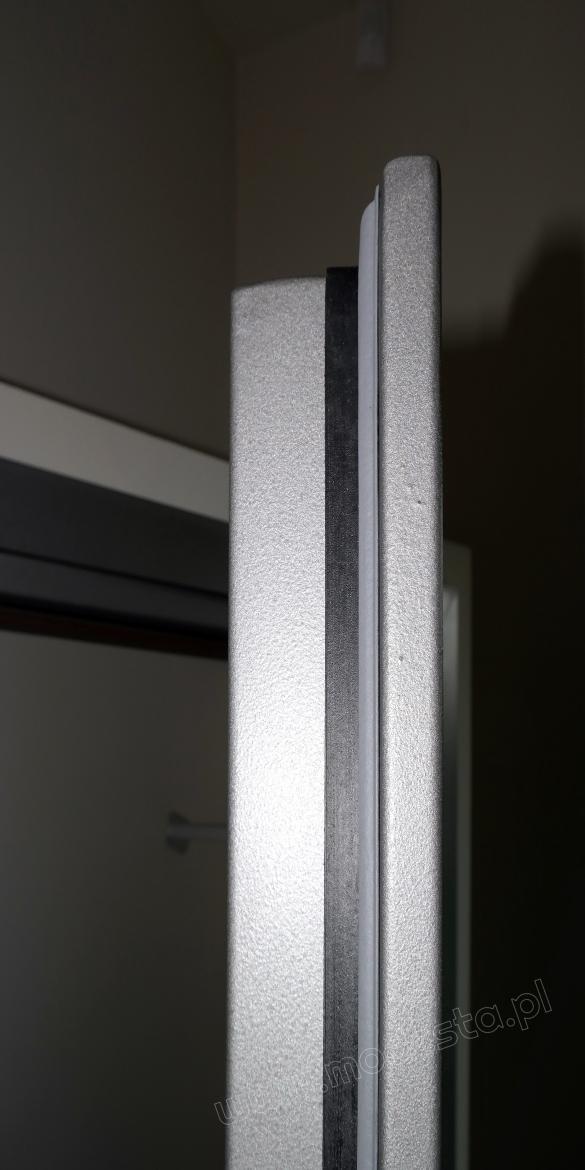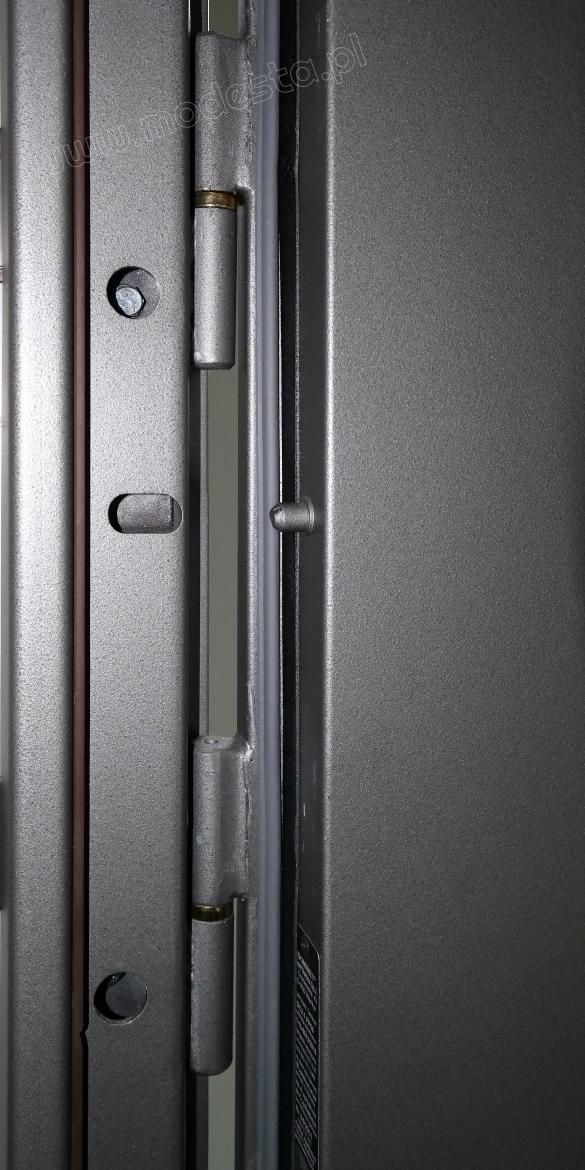 The standard equipment of an RC4 EI60 door
includes a block doorframe with a constant width of 72 mm, made of galvanized steel 3.0 mm thick, with a shaped, three-sided recess for a modified EPDM seal. All elements of the doorframe are directly welded to one another or bonded through connectors. Assembly seats adapted for Ø 12 mm steel dowels are distributed throughout the doorframe of anti-burglary fire safety doors, and a finishing threshold made of a steel shape with a height of 20 mm is mounted in the lower edge of the doorframe. It is possible to apply a modified block doorframe or angled doorframes as well as to adjust them within a certain range of installation width and depth.
RC4 EI60 anti-burglary fire safety doors
are equipped with four three-part bearing-mounted hinges, welded to the doorframe and leaf. In addition, on the hinge side, the door is protected by three fixed anti-prying bolts. The design of the RC4 EI60 steel door's hinges is optimally adapted to the weight of the leafs and the door's operating loads. The design of the hinges, size Ø22 mm in cross-section, and their placement guarantee the appropriate bearing capacity, fluidity of opening and closing, as well as high resistance to shear and abrasion. Hinges are mounted on very high-quality rolling bearings, which means that, despite the leaf's very large weight, the door opens rather lightly and fluidly. Thanks to such bearing of the hinges, laboratory tests of force and torque values required for proper opening and closing made it possible to classify the RC4 EI60 door into the class 2 series of operational forces according to PN-EN 12217: 2005.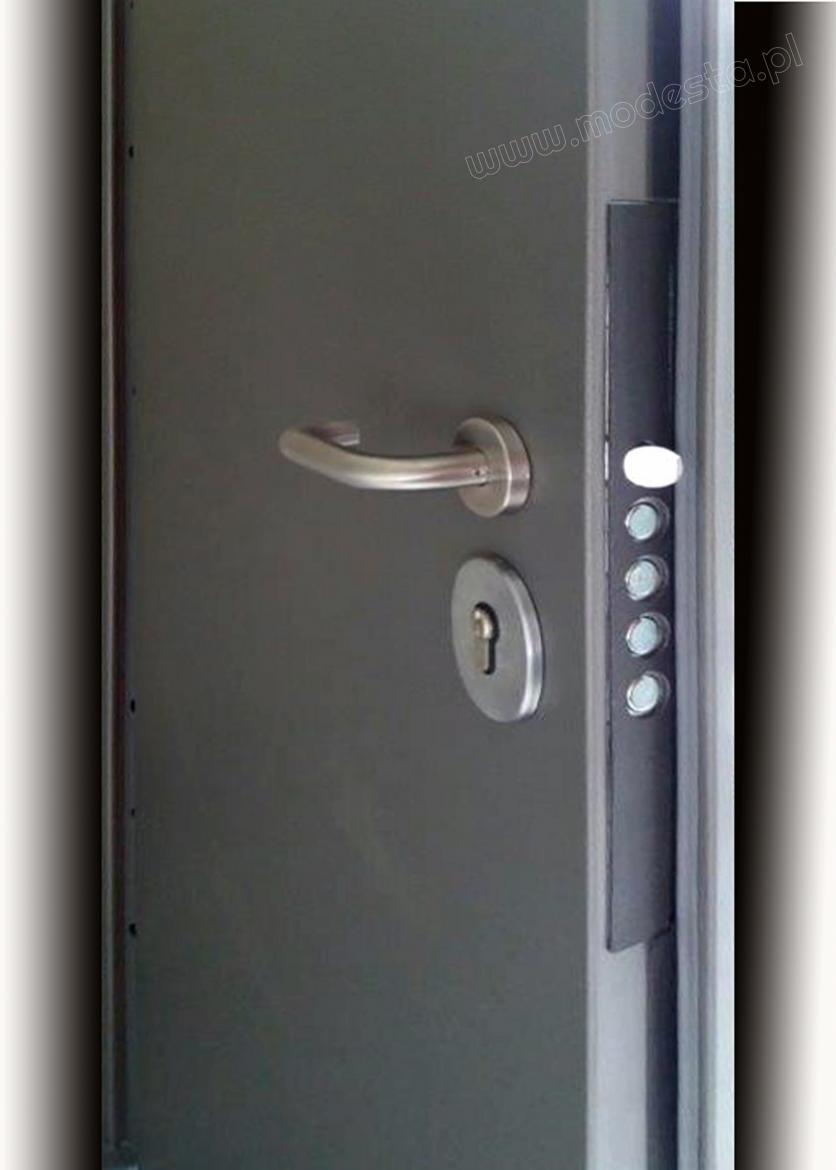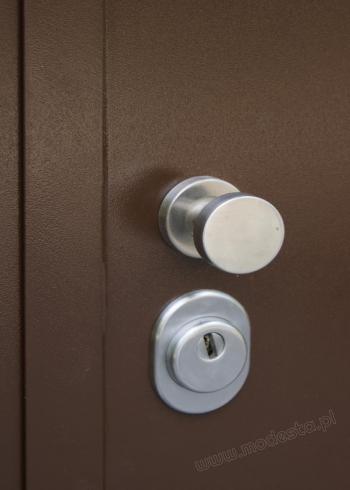 Standard fittings of fire safety anti-burglary doors RC4 EI60:
main under-handle expansion lock with class 7 protection according to PN-EN 12209:2005, bolting in multiple planes, with an anti-burglary insert and a set of keys duplicated based on a code card, additional bolt locks after the handle is released, without the use of a key. Stainless steel handle complete with oval plate and shield protecting the insert from the exterior. Optionally, the door can be equipped with a self-closer, access control elements, as well as with evacuation locks and panic fittings. The leaf and doorframe are lacquered in any color in the RAL palette, with the exception of pearl, reflective and metallic colors.
Besides its excellent burglary and fire resistance, thanks to its solid design, the anti-burglary and fire safety door achieves very high mechanical resistance, enabling its use under very heavy conditions. Double perimeter seals in the leaf and doorframe, as well as the dense filling of the leaf, allow for the achievement of a very high sound absorption coefficient and thermal insulation that is very good for a steel construction.
Physical properties of anti-burglary fire safety doors.
burglary resistance - class -RC4- according to PN-EN 1627:2012 fire resistance – EI60 according to PN-EN 13501-2+A1: 2009
burglary resistance - class C according to PN-90/B-92270 mechanical strength - class 4 according to PN-EN 1192: 2001
mechanical durability - class 6 according to PN-EN 12400: 2004
resistance to wind load - class 5C according to PN-EN 12210: 2001
corrosion resistance - category C3 or C4 according to PN-EN ISO 12944-2: 2001
watertightness - class 3A according to PN-EN 12208: 2001
acoustic insulation - Rw = 47 dB according to PN-EN ISO 717-1: 1999
heat transfer coefficient - 2.5 Uw(W/m2×K) according to PN-EN ISO10077-1: 2007
air permeability - class 4 according to PN-EN 12207: 2001
operational forces - class 2 according to PN-EN 12217: 2005